5-axis monoblock CNC saw machine
It's the new generation of a numerically controlled 5 axes Bridge Saws. Extremely compact and easy to install; it doesn't require any foundations, even as a possibile re-installation. The machine is built with the needs of workshops in mind and it is used for cutting slabs up to 200 mm in thickness (with blade Ø625 mm) of natural stone, synthetic stone, and ceramic.
The weight of the machine, up to 4.4 tons, ensure perfect rigidity for the production of:
kitchen countertops
vanity tops
wall panels for interiors and exteriors
flooring
doorsteps, staircases, and thresholds
street furniture
UNRIVALLED MECHANICS
The weight of the machine up to 4.400 kg ensures the optimal absorption of the stresses derived from machining, guaranteeing a high constant precision over time. This machine base fixed directly to the ground, without the need of building work, increases the machine and performance
WE WORK SAFELY
Blade automatic redressing station can be activated by a specific function on the operator panel.
MAXIMUM FREEDOM FOR YOUR PROJECTS
Rotary axes are fully interpolated with linear axes: the machine can therefore perform 5-axis machining with a tool and/or disc if necessary.
EASY PROGRAMMING
Simple and intuitive programming, thanks to the software installed on-board the machine.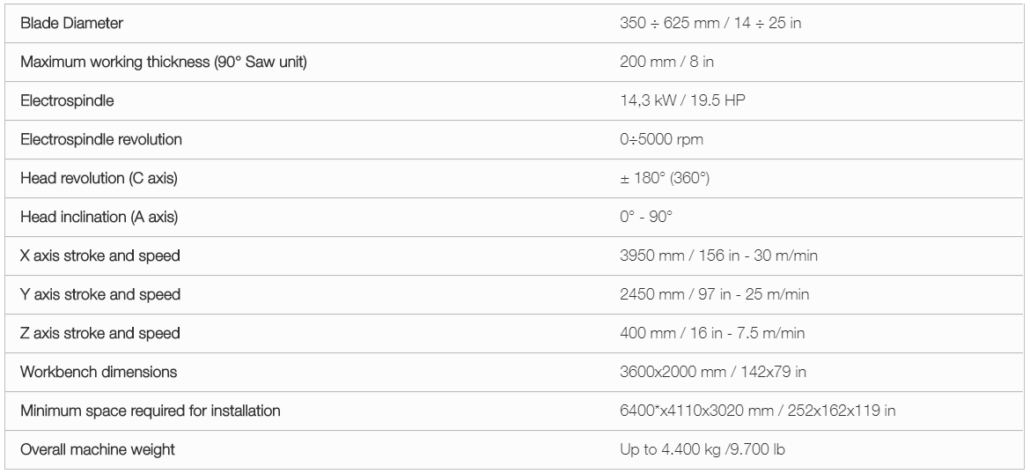 *excluding the space necessary for switchboard access