5-axis saw jet machine
Brembana formax jet is a Numerically Controlled 5 interpolated-axis bridge saw equipped with a tilting head and fixed table. It can carry out any type of machining, cutting (straight or shaped, vertical or inclined), 3D profiling and milling operations, on marble, granite, composite stone, and ceramic as well as stone blocks.
The machine is equipped with an abrasive waterjet cutting head that, working in combination with the diamond disk, enables automating natural and composite stone slab cutting operations when interfering cuts and internal angles are a factor. The AWJ head, integral with the main head, allows variable and small radius cutting, which would be impossible with just the diamond disk.
This machine can be customized to the customer's needs, it is the winning solution for every fabshop:
kitchen countertops
vanity tops
wall panels for interiors and exteriors
flooring
doorsteps, staircases and thresholds
street furniture
Brembana formax jet is also available with pallet change: The machine has an automatic system for pallet change that allows the operator to load the slab that needs to be cut outside the machine, while the machine is cutting another slab.
UNRIVALLED MECHANICS
Open frame version, to install on concrete or carpentry shoulders guaranteeing stability and rigidity to accomplish the most difficult processing and to ensure long longevity.
EASY MAINTENANCE: 93% LESS COST FOR EXHAUSTED ABRASIVE REMOVAL
The catch tank with special anti-rust ceramic painting is designed to fit the new Evo4 chain dredge for exhausted abrasive removal even later after installation, with 93% less maintenance costs.
LIMITLESS TECHNOLOGY
5-axis cutting head with IKC technology. Effective head motion to carry out perfect miter cutting through the cut conicity and deflection control.
+33% PRODUCTIVITY WITHOUT MANUAL MOVEMENTS
Thanks to the vacuum manipulator, it is possible to automatically move the cut pieces to optimize the slab cutting and reduce waste processing.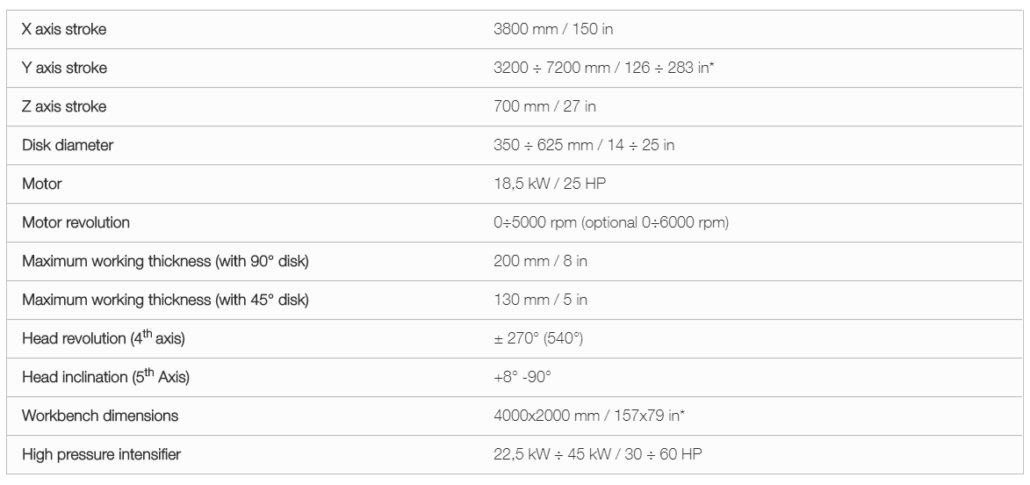 * Other sizes available on request