5-axis bridge saw
brembana formax is a Numerically Controlled 5 interpolated-axis bridge saw equipped with tilting head and fixed table. It can carry out any type of machining, cutting (straight or shaped, vertical or inclined), 3D profiling and milling operations, on marble, granite, composite stone and ceramic as well as stone blocks.
This machine can be customized to the customer's needs, it is the winning solution for every fabshop:
kitchen countertops
vanity tops
wall panels for interiors and exteriors
flooring
doorsteps, staircases, and thresholds
street furniture
brembana formax is also available with the following configurations:
cutting line equipped with a belt working table (BT)
cutting line equipped with a motorized roller working table (RS)
pendular machining
with an automatic unloading system of the pieces
UNRIVALLED MECHANICS
Open frame version, to install on concrete or carpentry shoulders guaranteeing stability and rigidity to accomplish the most difficult processing and to ensure long longevity.
MOTION ACCURACY
As a guarantee of quality all movements are powered by brushless motors coupled with a precision reduction gear and transmitted through a rectified and tempered guides and ball bearings.
LIMITLESS TECHNOLOGY
The machine can be equipped with a powerful ISO 50 electrospindle which, together with the 5 interpolated axes, transform the machine into a modern and complete 5-axis machining center.
+33% PRODUCTIVITY WITHOUT MANUAL MOVEMENTS
Thanks to the vacuum manipulator, it is possible to automatically move the cut pieces to optimize the slab cutting and reduce waste processing.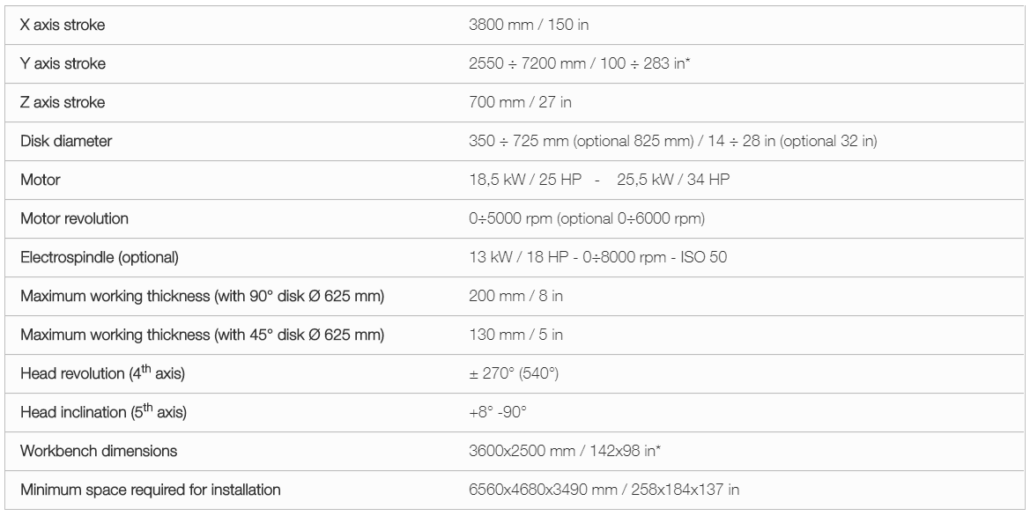 * Other sizes available on request